Reconnecting with the Natural World: August
August 20 - 25, 2023
Immerse yourself into the ancient art of nature, mindfulness, and self-awareness. Join Mohonk's Naturalist, Michael Ridolfo as he teaches time-tested principles of tracking and nature observation, authentic survival skills, and the spontaneous attention that occurs when we move through the arena of the natural world. You'll never look at a hiking trail the same way again…
Save 15% on your rate when you book our special Reconnect with Nature offer!
Availability is limited. For reservations, please call .
The Value of Reconnecting with the Natural World
5pm
During this brief program introduction we'll learn about the legacy our ancestors gifted to us in the forms of tracking and awareness, survival skills, and complex and effective social structures. We'll have a nature display to evoke questions and conversation. This will be educational and fun for the entire family.
Songs of Nature Part 1 – The Seat of the Pants Band
8:30pm
Mohonk is a natural wonder, and David Lutken and The Seat of the Pants Band wonder what could possibly be more charming than playing a concert on the Boat Dock. Songs of Nature is their unique, string band style — from old time, ragtime, folk & bluegrass favorites, to Josh White, Bob Dylan, Yip Harberg, The Byrds, John Denver, Joni Mitchell and Johnny Cash. Come by and commune with the Music. It's in everyone's nature!
Fox Walk: The Way of our Ancestors
7:30am
Learn how moving efficiently through the natural world helps to pattern our brains for expanded awareness and our bodies for balance, agility, and strength. Shifting from an urban or suburban gait to our ancestral gait makes us instantly quieter in the woods and enables a more intimate perspective into the natural world. By learning to expand all of our senses to their fullest potential, we are able to see more wildlife and discern more subtle patterns. 1 mile, easy pace, all are welcome.
Tracking & Wildlife Observation
10:30am
Read the tracks and signs that all animals leave behind as we explore woodland paths with Naturalist Michael Ridolfo. 1 mile. Easy pace.
Discovering the Species Around You
2:30pm
Plant blindness has become a large problem in our society, with most people no longer able to tell the difference between oak and maple trees. Join Dr. Jackie Schnurr for a nature walk around Mohonk Lake, where we will discover the most common species that are flowering and learn to appreciate the identities of our plant neighbors.
Wildlife Conservation
5pm
Carnivores are important members of New York State's wildlife community. Historically, 17 species of carnivores inhabited New York State, now there are 15. We've lost 3 species from the state and gained the coyote. Join Dan Bogan to learn about the fascinating natural history of our local carnivores and see photos of the animals who live here on the Shawangunk Ridge.              
Songs of Nature Part 2 – The Seat of the Pants Band
8:30pm
Always happy to be back 'on the Mountain' — with not one, but two shows for this summer's Songs of Nature. In addition to last night's artists, the band will play some original songs from two brand new theatrical works: "The Porch on Windy Hill" and "The Blue Ridge Nightingale". Come by and commune with the Music. It's in everyone's nature!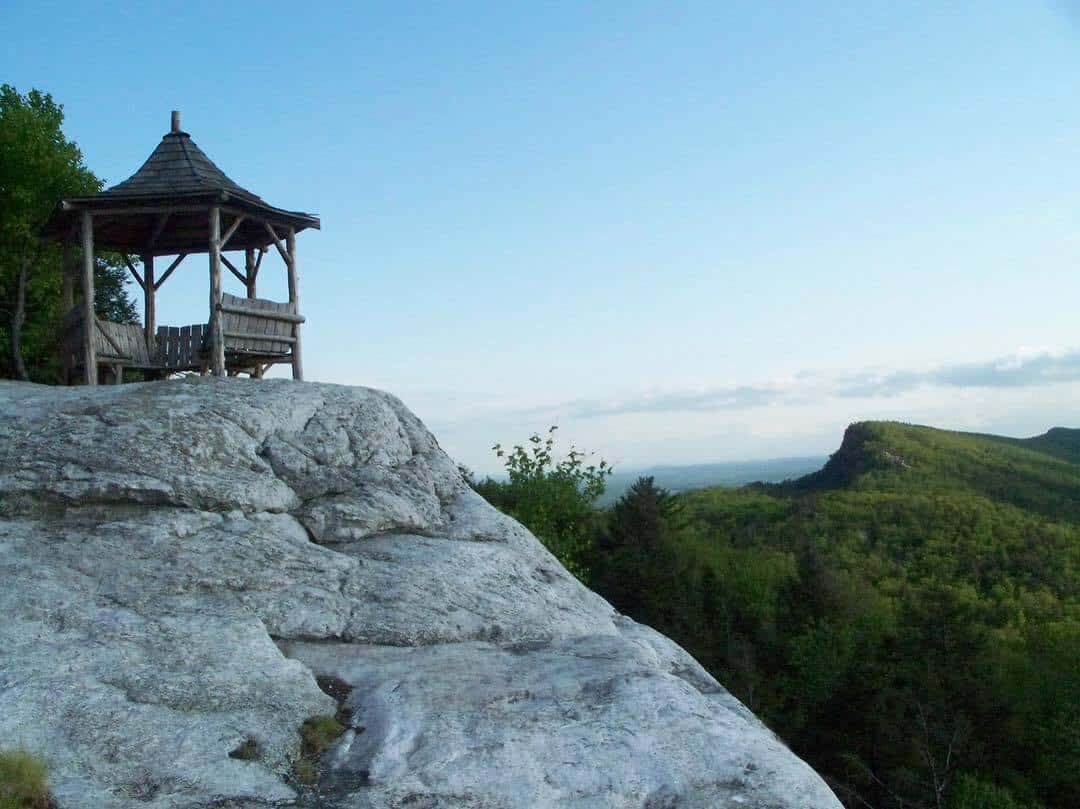 Setting Camera Traps: Capturing Wildlife
7:30am
Join Dan Bogan for an early morning walk, continuing on yesterday's discussion. Learn how to place camera traps and discover the vastness of data that can be collected just from photography.
Environmental Stewardship Walk & Talk
10:30am
Join a conversation about environmental stewardship – what it is and why it's important for both the natural world and our own wellbeing.
Nature Hike: Woods Wisdom
2:30pm
From aidless navigation to survival skills and everything in between. Join Naturalist Michael for this fun and informative hike. 2 miles. Moderate pace.
Amphibian & Reptile Walk
3:30pm
What cold-blooded, charismatic species share the woods and waters around the Mountain House? Join Lynn Bogan as we explore the fascinating world of amphibians and reptiles of the Shawangunk Ridge. We'll discuss their interesting lives and search their habitats to get a close-up look at these elusive animals.
Marcio Philomena Brazilian Trio 
8:30pm
Marcio Philomena's Brazilian Trio features bass legend Nilson Matta and up-and-coming drummer Graciliano Zambonin. The trio focuses on original music, but also takes you on a journey through the great Brazilian songbook. Marcio and Nilson are long-time collaborators, and for the first time they are joined by Graciliano Zambonin, a drummer known for his subtle, but colorful approach to drumming.
Night Hike to Copes Lookout
8:30pm
Moving deftly and silently and tapping into our night vision. Be on the lookout for creatures and events of the night—owls, insects, coyotes, stars, and satellites. We'll tap into our deep sensory awareness to take in as much information as possible.  Approximately 1 mile, all are welcome.
Mohonk Garden Tree Walk
7:30am
Join Paul Huth and Sandra Smiley on a leisurely walk in the Mohonk Garden to visit historic and unique trees that form part of the living collection at Mohonk. The route will follow that designed by Ruth H. Smiley, who served as resident horticulturist for some 50 years. Some of the trees, like the specimen Weeping Beech, planted by Albert K. Smiley and considered "one of the handsomest trees on the property", date back to the early days of the Mohonk Garden.
Native American Journey
10:30am
Learn how our predecessors thrived in this rich and diverse landscape with Mohonk's naturalist Michael Ridolfo. 1 mile. Easy pace.
Tomahawk Throwing*
2:30pm
Please join naturalist Michael Ridolfo for this fun and engaging survival skill. There will be a required 10 minute safety orientation before the event. Limit 30. Sign up required-no earlier than 24 hours in advance. Please call 845-256-2186 to sign up. No late admittance. Ages 13 and up. Closed-toe shoes required.
Natural History Workshop
3:30pm
The Shawangunk Ridge, where the Mohonk Mountain House is located, is one of the most biodiverse places in the northeastern United States. Join Dr. Jackie Schnurr on this walk to learn to identify the common species of plants, animals, fungi and lichens that surround us and to use our new found skills to explore a section of Eagle Cliff Trail.
Rodger's & Hammerstein 2021+
5pm
Contemporary female singer/songwriter Meg Flather is joined by pianist Tracey Stark in exploring the iconic Rodgers & Hammerstein Songbook.  Being struck by the relevancy of their compositions, Meg sought to bring attention to this music as the world battled COVID-19. "Rodgers & Hammerstein were precursors in tackling discrimination and domestic violence, and questioning the fairness of the American Dream," she observed. "They told true war stories and took us all over the world, including writing a show featuring the first all-Asian Broadway cast in Flower Drum Song. They created strong female characters, vulnerable male characters, and did all of this against a backdrop of such respect for the environment."
Adrian DiMatteo Trio
8:30pm
Graduating from the Eastman School of Music, Adrian DiMatteo is an international performing and recording artist, author, music educator and app creator (Chord Atlas). He performs original and popular songs in more than a dozen languages. The evening's performance will feature blues-influenced material from his original album "Everybody Knows the Blues."
Star Gazing with Astronomy Professor Raj Pandya
9pm
The dark sky undisturbed by major light pollution at Mohonk Mountain House provides an outstanding stargazing location that cannot be matched in any heavily populated area. Lay back, look up at the sky, and learn the season's constellations, how to find stars, and hopefully spot a meteor or two! A lecture will be held in the event of inclement weather. Towels will be supplied for viewing. Proper footwear required.
The Building Blocks of Fairy Gardens: Ferns, Mosses, and Lichens
7:30am
On this walk around Lake Mohonk, we will observe those members of the plant and fungus kingdoms that are underappreciated and seldom observed: ferns, mosses, and lichens. When observed closely, there is a whole world that can be discovered. Learn how these simple plants and fungus are important to the ecosystem, and discover a new world right below your feet!
Availability is limited. For reservations, please call .
Michael Ridolfo
Michael Ridolfo is the Naturalist at Mohonk Mountain House. After 20 years of rock climbing, ice climbing, mountain biking, skiing, winter mountaineering, nature photography, writing, and music, he began practicing the art of tracking, wilderness survival, and the native mentoring model. This journey has evolved into teaching children and adults how to deepen their relationship with the natural world. In 1999, he founded Wilderness Mind (now The Earthtime Project), a school dedicated to preserving the ancient arts of tracking and nature awareness.
Dr. Jackie Schnurr
Dr. Jackie Schnurr is a Professor of Biology and Environmental Science at Wells College, a small liberal arts college located in the Finger Lakes region of New York. She has been working with plants for over 25 years, and her research mostly looks at the roles that biotic factors, such as small mammals, and abiotic factors, such as light and nutrients, have on dictating plant distributions.
Lynn Bogan
Lynn Bogan is the Environmental Stewardship Coordinator with New York State Parks. Lynn received her Bachelors of Science from SUNY Environmental Science and Forestry, and her Masters of Science in Biodiversity, Conservation, and Policy from SUNY Albany. She has worked with reptiles and amphibians throughout her career and focuses on on-the-ground conservation and stewardship of native biodiversity. Lynn lives outside of Albany, NY with her husband, son, and their dog.
Dr. Dan Bogan
Dr. Dan Bogan is an Assistant Professor at Siena.  He earned his doctorate in Wildlife Science from the Department of Natural Resources at Cornell University.  Dan's research investigates the ecology of wildlife, particularly carnivores, to understand how animals are responding to changing environments.  Gaining this information helps to understand human-wildlife interactions to reduce the potential for conflicts and to conserve wildlife.
Meg Flather
Meg Flather began a recent collection of awards in 2015 with the MAC Hanson Award. She followed that by winning the 2016 MAC Award for Best Original Song, and the 2017 MAC and Bistro Awards for Female Vocalist of the Year. In 2018, Meg made her debut in the Mabel Mercer Foundation Annual Cabaret Convention at Lincoln Center, and in 2019 received her fourth MAC Award for "Special Production" for Meg Flather Songs: A Cabaret Sisterhood, which featured 27 of her fellow women vocalists singing 14 of Meg's original songs. During the pandemic, Meg completed her 8th album, Reaching Higher, and the song "Inside" won the 2021 BroadwayWorld.com Cabaret award for Best Original Song.  When Meg is not making music, she is a Brand Ambassador who has appeared on all home shopping networks in the USA, Canada, and Australia. Her autobiography, Home Shopping Diva… Lessons, Lyrics and Lipstick is available on Amazon.
 Paul Huth
Paul Huth brings nearly 50 years of natural and cultural history research on the Shawangunk ridge, mostly concentrated at Mohonk and the surrounding Mohonk Preserve. He worked for 15 years with the Preserve's 1st Director of Research, Daniel Smiley, and with his brother Keith, founders of the Mohonk Trust in 1963. Paul followed Dan as the Preserve's 2nd Director of Research and served for over 20 years. Paul authored and coauthored over a hundred Research Reports and published papers on a diversity of subjects, including the century old Mohonk Lake Cooperative Weather Station, where Dan and Paul both served as long-term Cooperative Observers for the National Weather Service. Paul's decades of service insured the future of Dan's science legacy, now being digitized, for future generations.
David Lutken
David Lutken was born and raised in Dallas, Texas, where he attended St. Mark's School of Texas. He graduated from Duke University in 1979 with a degree in Classical Studies. He also studied in London at the Royal School of Church Music, the Royal College of Music, and the Webber Douglas Academy of Dramatic Art. In addition to developing various folk music/American history lessons for school children and young adults, he has created a touring show, Woody Sez: The Life and Music of Woody Guthrie. Woody Sez first premiered at the Edinburgh Festival in 2007 and has made multiple performances across the country since then.
 Tracey Stark
Tracey Stark is a Pianist /Music Director/Arranger/Bandleader/Singer Songwriter, and 12-Time MAC Award winner, in the categories of Music Director, Piano Entertainer, and Song of the Year.  She is also a Bistro Award winner for Musical Direction, has won Cabaret Hotline's Songwriter of the Year Award, and most recently won a 2021 Broadway World Award for Music Director, and 2022 MAC Award for Music Director. Tracy has worked with Sarah Dash (Labelle), Lesley Gore,  Phoebe Snow, Karen Black, Nona Hendryx (Labelle), Randy Jones (Village People), Barb Jungr, Brenda Braxton, Justin Sayre, Eric Millegan (Bones), Tonya Pinkins, Nathan Lee Graham, Alice Ripley, and hundreds of other rock, jazz, and Broadway vocalists.  She stays busy creating and music directing 75-100 different shows per year.
Adrian DiMatteo
Adrian DiMatteo (B.M. Jazz Guitar Performance, Eastman School of Music) is an international performing and recording artist, author, music educator, app creator and sound healer with over 20 years' experience in the music world. He performs original and popular songs, children's music, and carries sacred chants and mantras from ancient native, tribal, and indigenous cultures, singing in more than 15 languages. Adrian is the creator of "Chord Atlas," an iOS app for aspiring guitarists of all levels. He is a regular contributor to Hii Magazine, a multi-media magazine dedicated to sound and music.
Marcio Philomena
Marcio Philomena is an accomplished guitar player, music producer and educator hailing from New York City. In addition to graduating from Berklee College of Music for Performance, Philomena also holds a Master's in Music from The Royal Conservatoire The Hague. His musical specialties include: Brazilian music, Jazz, and original compositions. Often teaming up with Jazz legends such as Nilson Matta, Marcio Philomena's performances are a masterclass in music.
Raj Pandya
Raj Pandya earned his BS in applied Physics from RPI in 2006 and MS in Astronomy from SDSU in 2008.  His thesis was on extrasolar planets under extremely strong gravitational fields and is titled "On the Non-Axisymmetric Nature of Hot Jupiter Exoplanets."  Raj has taught introductory astronomy and physics as an adjunct in San Diego, Los Angeles, Orange County, CA, Westchester County, NY, Staten Island, and the Bronx.  He became the Director of the John R. Kirk Planetarium and a full time lecturer in the department of Physics and Astronomy at SUNY New Paltz in fall 2011.  He now teaches introductory and upper level courses in astronomy, and physics I labs.  As Planetarium Director he develops, organizes, promotes, and presents live planetarium shows for the campus community and the regional public.  He is also the faculty advisor of the student astronomy club at New Paltz, the "Cosmic Club".  Raj is originally from Westchester, New York and currently lives in New Paltz.