Mindfulness in Minutes
November 3 – 5, 2017
Learn simple techniques that can be used anywhere and anytime to bring the benefits of mindfulness into your life—right now!
Throughout the weekend, join Dr. Nina Smiley and David Harp, co-authors of The Three Minute Meditator and Mindfulness in Nature, to discover how you can change your life one moment at a time. Learn how to use mindfulness meditation to address many aspects of your life as you reduce stress and support your optimal well-being. Understanding how to work more skillfully with thoughts, emotions, and events in real life and real time can make a real difference.
The spectacular natural environment surrounding Mohonk Mountain House – miles of forest trails in a timeless setting – offers a remarkable opportunity to bring mindfulness outdoors. Mohonk's naturalist Michael Ridolfo will lead early morning excursions and Nina will take you outside in the afternoon as they invite you to expand your senses and experience the world one moment at a time.  Enjoy "mindfulness in motion" as summer embraces our mountaintop!
Availability is limited. For reservations, please call .
SCHEDULE OF EVENTS: COMING SOON
Please check back for an updated schedule 3 months prior to the event.
Preview last year's schedule:
Mindfulness in Nature
The term "forest bathing" or "shinrin-yoku" has been used in Japanese writings and research to describe the sense of well-being that comes from being outdoors immersed in nature. This Mindfulness in Nature walk with Nina guides you through wooded trails, alongside timeless cliffs and our crystal-clear lake. Embrace your senses with this unique walk.
Festival of the Arts – "Under a Summer Moon"
You may choose to be outdoors tonight looking up at the stars, or you can join us in Mohonk's Victorian Parlor to be "Under a Summer Moon" indoors! Enjoy a performance by two widely acclaimed stars – award-winning cabaret singer, Marissa Mulder and jazz pianist extraordinaire, Jon Weber. Selections this evening will span generations of singer-songwriters, including Mary Chapin Carpenter, Joni Mitchell, and Tom Waits. Don't miss classic songbook favorites… "It's Only a Paper Moon"… "As Time Goes By."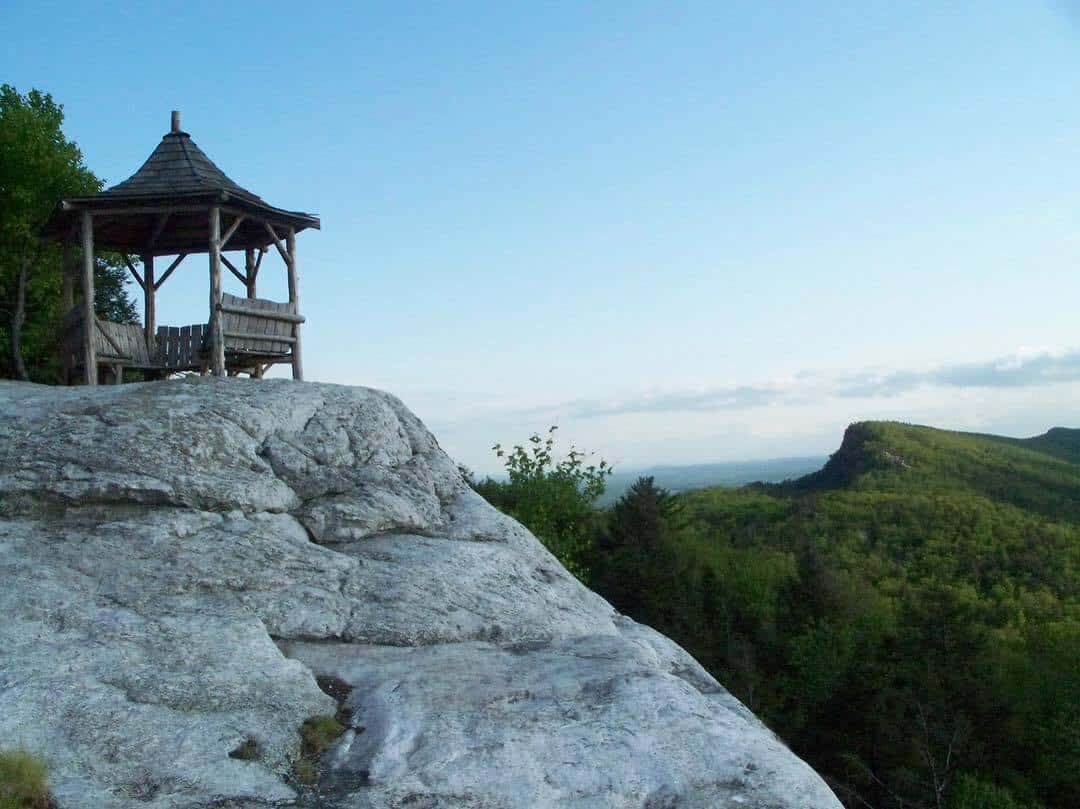 Mindfulness in Minutes: Part 1
When meditation is seen as something you have to do "outside" of real life – find the perfect setting, be surrounded by silence, and spend a required amount of time on a daily practice – the desire to pursue this can be overtaken by the reality of daily life. In the midst of hectic days, you may be on-the-road or on-the-run, caught up in meetings, busy with family, and dealing with… whatever! But these are exactly the moments when we can most use the benefits of mindfulness. Nina offers an approach that makes mindfulness accessible to real people in real lives when they really need it. In this session, Nina will guide you through some simple techniques that will help your brain begin to form a new habit – what if you could learn to watch the mind, instead of going with its storyline? Rather than reacting-and-regretting, what if you could learn to respond more skillfully in the moment? Learn more about how to bring it into your life!
Mindfulness in Minutes: Part 2
Building on our first Mindfulness in Minutes session, Part 2 with Nina will bring an opportunity to learn how to use these skills in the nitty-gritty moments of your life. For example, insomnia – is anyone In Search of A Good Night's Sleep? Minds can be very active – especially at three in the morning. Learn how to use mindfulness to set the stage for sleep. What about Relationships That Really Work? Throughout the day, we're constantly interacting with other people—family, friends, colleagues… Discover how a mindful approach to relationships can lead to more skillful interactions at home and at work. Instead of thinking "I wish I hadn't said that" learn to change "that" behavior. Nina will also focus on your most important relationship – with yourself. There will be time to talk about Never Diet Again – a mindful take on weight loss and wellness… And we'll look at suggestions on relating to pain as a "habit" and exploring a different way of working with it. You'll leave this session with an understanding of mindfulness that empowers you to bring it into your life and use it to enhance well-being, one moment at a time!
Time on Your Own!
Enjoy the spectacular outdoor setting of Mohonk Mountain House, take a swim in our indoor heated pool, delight in a spa treatment, take a boat out on the lake…or do anything else you choose…mindfully, of course!
Mindfulness Walk: The Way of our Ancestors
Naturalist Michael Ridolfo shows how moving efficiently through the natural world helps to pattern our brains for expanded awareness and our bodies for balance, agility, and strength. Shifting from an urban or suburban gait to our ancestral gait makes us instantly quieter in the woods and enables a more intimate perspective into the natural world. Through this simple shift we are able to see more wildlife and discern more subtle patterns. In addition, we will learn to expand all of our senses to their fullest potential. This hike with Michael will be approximately one mile at a very easy pace.
Harmonica-based Mindfulness™: A Unique Approach
Learn David Harp's Harmonica-based Mindfulness™ – we guarantee that he'll teach you to play simple blues, rock, and folk harmonica as a playful and joyous way to increase your breath focus skills and by so doing to bring mindfulness into your life. David has taught hundreds of thousands of people how to develop a practice of mindfulness meditation. And he's taught more than a million people to play blues, rock, and folk harmonica. With results within minutes. It will be a great mix of music and mindfulness, and you'll go home with an amazing set of tools to deal with, well…anything! Includes a Mojo Deluxe Blues Harmonica. Absolutely no musical experience needed!
Availability is limited. For reservations, please call .
Dr. Nina Smiley
Director of Mindfulness Programming

Nina graduated from Vassar College and earned a doctoral degree in psychology from Princeton University. She is the co-author of The Three Minute Meditator, now in its fifth edition, and Mindfulness in Nature (Spring 2017), along with the CD Mini-Meditations That Will Enhance Your Life. Nina taught psychology at the University of Maryland and worked at the American Psychological Association. She has studied mindfulness with Jack Kornfield (founder of Spirit Rock Meditation Center), Sharon Salzberg (co-founder of Insight Meditation Society), and others. Nina's work has been featured in O, the Oprah Magazine, Real Simple, Shape, Self, The New York Times, and Prevention. She delights in sharing insights about mindfulness meditation and well-being.
David Harp
Cognitive Scientist, Author, Speaker, Musician
David is the author of more than two dozen books, including (Mindfulness To Go: How to Meditate While You're On the Move! and Neural Path Therapy: How to Change Your Brain's Response to Anger, Fear, Pain, and Desire). A corporate speaker and a professional musician, David travels the United States and the world helping organizations work more co-operatively, more creatively, and with less stress. But David never just lectures his audiences on the mysteries of the human brain, as he also happens to be America's best-known, and fastest, harmonica teacher, with more than a million students to his credit, and the holder of the undisputed World's Record for Most-People-Taught-to-Play-Harmonica-at-One-Time (2,569)! Thus David combines his two favorite mental disciplines—harmonica and cognitive psychology—into entertaining, interactive, and highly effective workshops. His work has been featured on Good Morning America and National Public Radio.
Michael Ridolfo
Mohonk Mountain House Naturalist
After 20 years of rock climbing, ice climbing, mountain biking, skiing, winter mountaineering, nature photography, writing, and music, Michael began practicing the art of tracking, wilderness survival, and the native mentoring model. This journey has evolved into teaching children and adults how to deepen their relationship with the natural world. In 1999, he founded Wilderness Mind, a school dedicated to preserving the ancient arts of tracking and nature awareness.
When you visit for Mindfulness in Minutes in July, your overnight package includes:
Three meals daily featuring fresh, locally sourced cuisine from our farm-to-table partners
Access to more than 85 miles of the Hudson Valley's best hiking trails
Boating and fishing on Lake Mohonk
Daily Guided "House History" Tours of our National Historic Landmark resort
Guided Nature Hikes with stunning views of the Catskill Mountains
Yoga, Meditation, and Fitness Classes
Indoor Heated Pool with underwater music
Afternoon tea and cookies in our historic Lake Lounge
Complimentary greens fees Monday–Friday on our Scottish-inspired golf course
Nightly Evening Entertainment
Special Events such as Outdoor Summer Movie Series and more! See schedule of activities >
A la carte experiences available to overnight guests:
A full menu of nature-inspired treatments at our award-winning spa
The Carriage Lounge, featuring a full bar and handcrafted cocktails as well as hyperlocal draft beer and hard cider
An award-winning wine list in our Main Dining Room
Horseback riding, carriage rides, and pony rides